Company Profile
NST has made a great contribution to the mainstreaming of GFRC in Russia and former Soviet Union countries.
The company has been working since 1990 and supplies various machines and mechanisms. All equipment is supplied under the brand Novye Stroitelnye Tekhnologii - NST (New Building Technologies).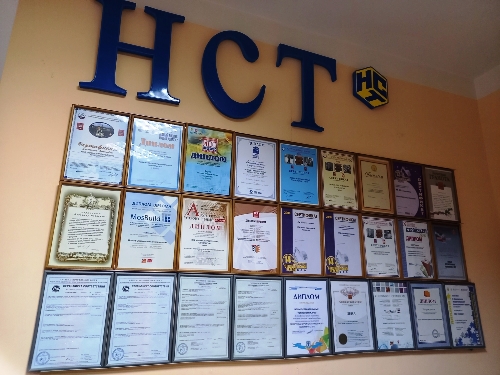 NST - GFRC equipment manufacturer since 1990
NST company was founded by Vladimir Ivanovich Slagaev in 1990. From 1976 to 1990 he worked at Reinforced Concrete Plant (ZBI) in Moscow. In 14 years, he went from a young specialist to the chief technologist of the plant. In the mid-1980s, the plant conducted GFRC research and development.
The factory built arched hangars made of GFRC. At the construction site a large pneumatic formwork was inflated (according to the size of the hangar). Then GFRC was sprayed using Spray method. Then the air was released and formwork blew off. The hangar was ready to use. Salagaev V. I. was directly involved at every stage of work.
In 1994 Slagaev V.I. designed a GFRC station under the brand name SC-4 (СЦ-4).
Since 2005 NST produces GFRC equipment under the brand SC-45 (СЦ-45).
Since 2017 MK-SFB NST17 type plants are commercially available.
Company business activities are divided between two divisions:
OOO Novye Stroitelnye Tekhnologii (NST) is engaged in research of new technologies and business opportunities. NST operates R&D Center, designs and tests samples manufacturing. NST refines technologies and performs pre-production.
OOO Tekhsovet handles selling and performs serial production using prototypes and WDD supplied by NST.
Company structure:
Assembly and production site. Vladimir, Baturina str., 39.
Testing area. Vladimir, Baturina str., 39.
Finished product warehouse. Vladimir, Baturina str., 39.
Service center (equipment repair). Vladimir, Baturina str., 39.
Factory management (Accounting, Purchase department, General department, Senior Process Engineer department, Chief Designer department, Sales department). Vladimir, Baturina str., 37G-6.
Branch sales office. Moscow, Fakultetsky pereulok, 6-3.
As of May 2020, NST produces the following products:
GFRC equipment (since 1994).
Equipment for spraying low-pressure foamed polyurethane (since 1998).
Equipment for spraying high-pressure foamed polyurethane (since 2017).
Equipment for filling foamed polyurethane with a dynamic mixer (since 2003).
Equipment for casting compounds, elastomer, silicon, two-component polymers (since 2016).
Equipment for filling carbamide formaldehyde plastic foam PENOIZOLTM (ПЕНОИЗОЛ TM) (since 2001).
Equipment for filling PF plastic foam (since 2007).
Equipment for contact moulding of fiberglass based on epoxy resin (since 2010).
Equipment for contact moulding of fiberglass based on non-saturated polyester resin (since 2012).
Equipment for contact moulding of fiberglass based on saturated polyester resin (from 2020).
Equipment for seamless cold waterproofing compound made of two-component water-based bitumen-polymer emulsion - liquid rubber (since 2005).
Peristaltic pumps (since 2016).
Universal plastering machine for textured coatings and gypsum plaster (since 2018).
Air ball vibrators (since 2002).
In 30 years more than 20,000 customers from Russia, EAEU and former Soviet Union countries have chosen NST products.
NST independently designs, manufactures and sells its own products.
NST offers training, technical assistance and supervised installation.
Service center. NST supplies spare parts for any equipment within 3 years from the date of discontinuation of production.
Quality control and reliable components.
R&D Investment.
Four patents of inventions. Copyright certificate. Three trademarks.
Over 100 exhibitions from 2003 to 2019.
Leading developer and supplier of GFRC products in Russia.
2/3 of all GFRC manufacturers in Russia use NST pneumatic spray guns. NST sprayer is a mass used in Russia and former Soviet Union countries.
Half of all GFRC manufacturers use a full set of NST equipment:
Gun
Pumping station
Plaster Mixer
Over 250 GFRC pneumatic spray stations were manufactured and fully fielded over the period from 1994 to 2019.
Ask a Question
Have any questions about Glass Fiber Reinforced Concrete? Our experts are ready to share experience about equipment and production, just leave the message!