GFRC Raw Materials and Composition
GFRC composition:
Cement. Cement brand M500. White Portland Cement is recommended.
Sand. Grain size 0.5-1.2 mm. Properly graded silica sand is recommended.
Water.
Alkali Resistant (AR) Glassfibre. AR Glassfibre is specially formulated to have a high degree of resistance to alkali attack and high durability in cement. Minimum ZrO2 content is 14%.
Proportions:
Cement and sand in equal proportion.
Moisture content - 40-45%
AR Glassfibre content - 1,5-5,0% of cement and sand mass.
Water should be used as lightning less. In general, the water cement ratio should be minimized to reduce the shrinkage of GFRC and increase the strength of the product. Plasticizers can be used to reduce the water content and obtain a certain viscosity. In this case, water content should be 28-32% of cement mass.
The filament is supplied in bobbins (14-20 kg). Continuous filaments bonded into a single strand and wound onto a bobbin shape is called roving. The filament cut into segments of the desired length is called fiber.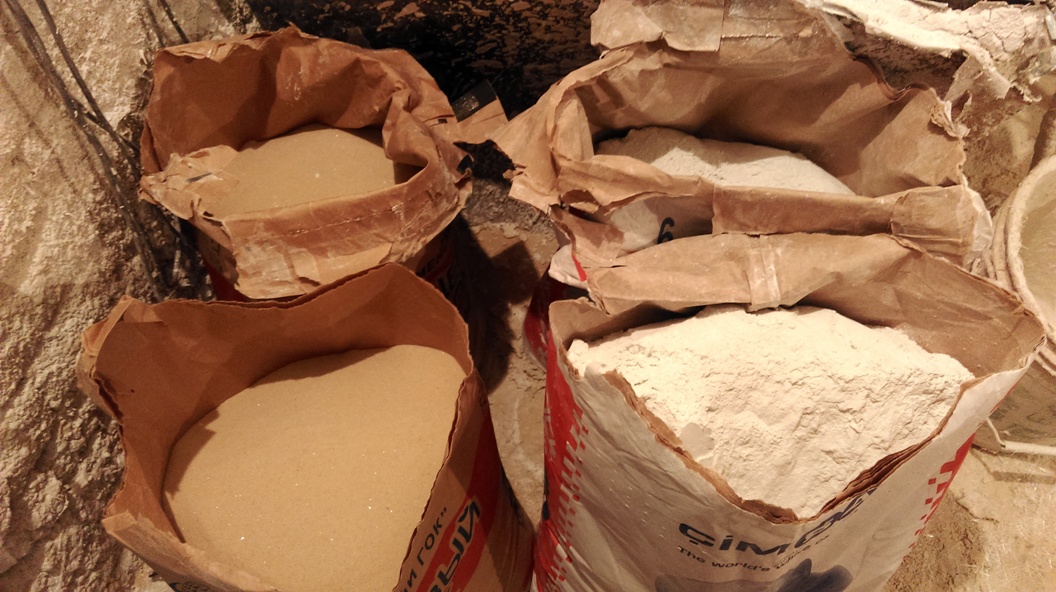 GFRC raw materials
Standard composition per working cycle:
Cement - 50 kg;
Sand - 50 kg;
Water - 20 kg;
AR Glassfibre - 2 kg.
The result is 0,05 m3 of GFRC. Products thickness - from 15mm to 40mm. Average GFRC product thickness - 20mm. Using such proportion, you can get 2,5 m2 of cladding, decor or any other products of any geometry and shape with any pattern and relief.
GFRC cost price calculation. For calculation we use retail prices in Moscow as of March 01, 2020.
50 kg of white cement. Price - USD 11.5
50 kg of sand (grain size 1.0 mm). Price - USD 4.5.
20 l of water. Free of charge in Russia.
2 kg of AR Glassfibre (14%). Price - USD 9.
Total amount: 11,5 + 4,5 + 9 = USD 25.
The cost of 2,5 m2 of GFRC products (20 mm thickness, glass fiber content 2%) is USD 25, therefore 1 m2 = USD 10. This is the price in the top expensive city in Russia.
You can buy 1 m2 of GFRC products in Moscow for USD 60. Average after-tax profit is USD 20.
The price per 1 m2 can be reduced in case of:
cheaper rate of cement;
cheaper rate of sand;
cheaper rate of fibre.
The price per 1 m2 can be increased in case of:
product thickness is more than 20 mm.
fiber percentage is greater than 2%.
The following parameters should be carefully calculated in order not to make the product thicker than the necessity is.
GFRC calculation procedure in Russia is governed by a special document Industry construction standards 56-97. All GFRC manufacturers in Russia and former Soviet Union countries are guided by this paper.
The following points can impact GFRC properties:
fiber percentage;
cement/sand/water ratio,
orientation and length of the fiber,
curing conditions.
Fiber percentage, its length and orientation affect the tensile ultimate strength, bending strength and impact resistance.
Minimum fiber percentage is 1.5% of total mass.
Average fiber percentage is 3.0% of total mass. This percentage is recommended to ensure good strength.
Maximum fiber percentage is 5.0% of total mass. When fiber percentage is more than 5%, the concrete density drops due to increased air amount.
AR Glassfibre
The optimal fiber percentage is calculated based on the size of the product, its purpose and operation loads.
The length of fiber affects the reinforced property of GFRC. Optimal length for Auto Spray method is 15-30 mm.
Durability of GFRC finishing products is determined by the fact that when the solution with the fibre is sprayed, a composition with the two-dimensional random orientation of the fibre is formed.
Fiberglass is a composite. It meets the definition of a composite: a plastic base reinforced with a filler that gives the product strength and rigidity.

Ask a Question
Have any questions about Glass Fiber Reinforced Concrete? Our experts are ready to share experience about equipment and production, just leave the message!